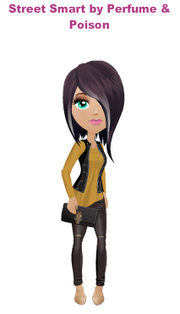 Street Smart is a controversial Regular set, by Perfume & Poison.
In September 2016, controversy bursted when Poison Clutch was one of the 3 inventory prizes during the Wheel of Fashion's "Liquid Bronze" celebration.
General Information:
Edit
The set consists of 5 items, including one controversial item:
Poison Clutch*
Naked Pumps
The set has a total initial value of $721 and a total resale value of $866.
Requirements:
Edit
Street Smart is unlocked from the beginning.
Picture
Name
Price per Item
Profit per item (%)
Buy
Sell

Armored Vest
$249
$299
$50 (20%)

Thrift Shop Sweater
$99
$119
$20 (20%)

Tattered Dark Jeans
$149
$179
$30 (20%)

Poison Clutch

(Controversial)

$99
$119
$0 (0%)

Naked Pumps
$125
$150
$25 (20%)
Ad blocker interference detected!
Wikia is a free-to-use site that makes money from advertising. We have a modified experience for viewers using ad blockers

Wikia is not accessible if you've made further modifications. Remove the custom ad blocker rule(s) and the page will load as expected.