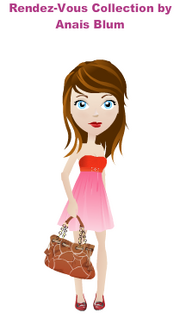 Rendez-Vous Collection is a Regular set, by a controversial designer Anais Blum.
Rendez-Vous is the most controversial collection ever in Mall World, this is because when you play in the Missing Piece Game and the model is fully naked, that means it is the Rendez-Vous Collection that needs to be complete.
General Information:
Edit
The set consists of 3 items:
The set has a total initial value of $175 and a total resale value of $210.
Requirements:
Edit
Rendez-Vous Collection can only be unlocked at level <insert level>, for <price> Mall Dollars.
Picture
Name
Price per Item
Profit per item (%)
Buy
Sell

Sunrise Dress (red/pink)
$75
$90
$15 (20%)

Tan Hampton
$60
$72
$12 (20%)

Patent Flats (red)
$40
$48
$8 (20%)
Ad blocker interference detected!
Wikia is a free-to-use site that makes money from advertising. We have a modified experience for viewers using ad blockers

Wikia is not accessible if you've made further modifications. Remove the custom ad blocker rule(s) and the page will load as expected.