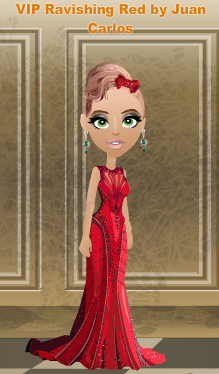 Ravishing Red is a VIP Collection, by Juan Carlos.
General Information:
Edit
The set consists of 4 items:
Pinned Strawberry Blonde Updo
The set has a total initial value of $71,000 and a total resale value of $85,200.
Requirements:
Edit
Ravishing Red can be unlocked at any level, for <price> Mall Credits.
Picture
Name
Price per Item
Profit per item (%)
Buy
Sell

Red Sequin Bow
13,000
15,600
2,600 (20%)

Pinned Strawberry Blonde Updo
18,000
21,600
3,600 (20%)

Emerald Diamond Earrings
15,000
18,000
3,000 (20%)

Red Sequin Ball Gown
25,000
30,000
5,000 (20%)
References:
Edit
Ad blocker interference detected!
Wikia is a free-to-use site that makes money from advertising. We have a modified experience for viewers using ad blockers

Wikia is not accessible if you've made further modifications. Remove the custom ad blocker rule(s) and the page will load as expected.