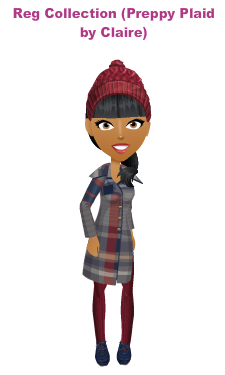 Preppy Plaid is a Regular Collection, by Claire.
General Information:
Edit
The set consists of 4 items:
Cabled Burgundy Beanie
Plaid Prep Coat
Burgundy Knit Tights
Navy Suede Oxfords
The set has a total initial value of $72,996 and a total resale value of $87,596.
Requirements:
Edit
Preppy Plaid can be unlocked at Level 159, for 36,000 Mall Dollars.
Picture
Name
Price per Item
Profit per item (%)
Buy
Sell

Cabled Burgundy Beanie
16,999
20,399
3,400 (20.001%)

Plaid Prep Coat
24,999
29,999
5,000 (20.001%)

Burgundy Knit Tights
10,999
13,199
2,200 (20.001%)

Navy Suede Oxfords
19,999
23,999
4,000 (20.001%)