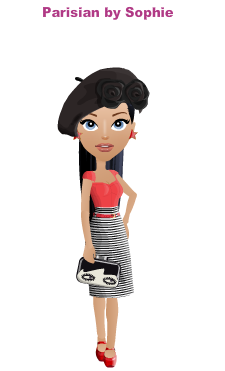 Parisian is a Regular Collection, by Sophie.
General Information:
Edit
The set consists of 6 items:
Parisian Knit Hat

Red Stud Earrings

Cap Sleeve Top

Striped Pencil Skirt

Lashes Clutch

Red Pumps

The set has a total initial value of $43,000 and a total resale value of $51,600.
Requirements:
Edit
Parisian can be unlocked at Level 115, for 35,000 Mall Dollars.
Picture
Name
Price per Item
Profit per item (%)
Buy
Sell

Parisian Knit Hat
$6,500
$7,800
$1,300 (20%)

Red Stud Earrings
$6,700
$7,800
$1,300 (20%)

Cap Sleeve Top
$8,000
$9,600
$1,600 (20%)

Striped Pencil Skirt
$8,000
$9,600
$1,600 (20%)

Lashes Clutch
$7,000
$8,400
$1,400 (20%)

Red Pumps
$7,000
$8,400
$1,400 (20%)