Fresh is a Premium set, by Amanda.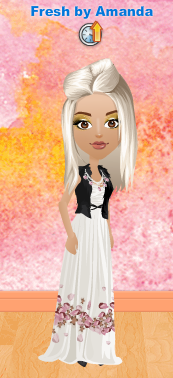 General Information:
Edit
Items in this collection sell even faster than items at the same price.
The set consists of 5 items:
Half Up Half Down
Classy Pink Gems
Black Fur Vest
Fresh Spring Strapless Gown
Ten Strap Heels
The set has a total initial value of $103,000 and a total resale value of $123,600.
Requirements:
Edit
Fresh can be unlocked at any level, for <price> Mall Credits.
Picture
Name
Price per Item
Profit per item (%)
Buy
Sell

Half Up Half Down
30,000
36,000
6,000 (20%)

Classy Pink Gems
10,000
12,000
2,000 (20%)

Black Fur Vest
15,000
18,000
3,000 (20%)

Fresh Spring Strapless Gown
28,000
33,600
5,600 (20%)

Ten Strap Heels
20,000
24,000
4,000 (20%)