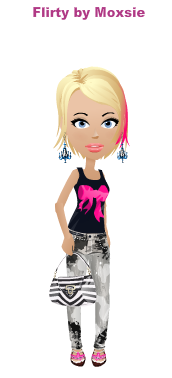 Flirty is a Regular Collection, by a controversial designer Moxsie. (CLOSED)
General Information:
Edit
The set consists of 5 items:
Mad Elegant Earrings
Bow Tank Top
Jamie Black Bleached Jeans
Chevron Clutch
Gem Pink Sandals
The set has a total initial value of $354 and a total resale value of $424.
Requirements:
Edit
Flirty was unlocked from the beginning.
Picture
Name
Price per Item
Profit per item (%)
Buy
Sell

Mad Elegant Earrings
$32
$38
$6 (18.75%)

Bow Tank Top
$30
$36
$6 (20%)

Jamie Black Bleached Jeans
$130
$156
$26 (20%)

Chevron Clutch
$52
$62
$10 (19%)

Gem Pink Sandals
$110
$132
$22 (20%)