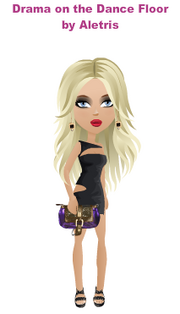 Drama on the Dance Floor is a controversial Regular set, by Aletris.
In September 2016, a scandal was exposed when Metallic Evening Clutch and Stilettos with Gold Studs were among of the three inventory prizes in the Wheel of Fashion's "Liquid Bronze" celebration. Fans call those items "too cheap" to sell.
General Information:
Edit
The set consists of 4 items, including 2 controversial items:
Stilettos with Gold Studs*
The set has a initial value of $1,025 and a controversial total resale value of $1,230.
Requirements:
Edit
Drama on the Dance Floor is unlocked from the beginning.
Picture
Name
Price per Item
Profit per item (%)
Buy
Sell

Nightlife Earrings
$475
$570
$95 (20%)

Black Bandage Dress
$100
$120
$20 (20%)

Metallic Evening Clutch

(Controversial)

$300
$360
$0 (0%)

Stilettos with Gold Studs

(Controversial)

$150
$180
$0 (0%)
Ad blocker interference detected!
Wikia is a free-to-use site that makes money from advertising. We have a modified experience for viewers using ad blockers

Wikia is not accessible if you've made further modifications. Remove the custom ad blocker rule(s) and the page will load as expected.