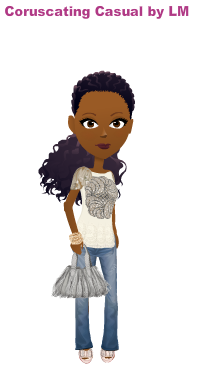 Coruscating Casual is a Regular Collection, by a controversial clothing brand LM Department Store.
In February 25, 2016; controversy spark in Mall World when the Golden Branches Bracelet, Bows & Studs Stilettos and Grey Feathered Handbag were included as the latest Inventory prizes in Wheel of Fashion's "Pearl Net" celebration. Fans were angered once again in Mall World because these two items were too cheap to sell.
According to Mall World, their controversial decision to had Regular Collections as Inventory prizes is because Premium Collections could "drop the sales of the Regular collections".
General Information:
Edit
The set consists of 5 items, including the three that went controversial:
Golden Branches Bracelet*
Grey Feathered Handbag*
Bows & Studs Stilettos*
(*Wheel of Fashion's Inventory prize)
The set has a total initial value of $5,495 and a total resale value of $6,595.
Picture
Name
Price per Item
Profit per item (%)
Buy
Sell

Lace Cap Sleeve Tee
$1,299
$1,559
$260 (20%)

Worn-In Bell Bottoms
$899
$1,079
$180 (20%)

Golden Branches Bracelet
$599
$719
$120 (20%)

Grey Feathered Handbag
$1,499
$1,799
$300 (20%)

Bows & Studs Stilettos
$1,199
$1,439
$240 (20%)
Ad blocker interference detected!
Wikia is a free-to-use site that makes money from advertising. We have a modified experience for viewers using ad blockers

Wikia is not accessible if you've made further modifications. Remove the custom ad blocker rule(s) and the page will load as expected.