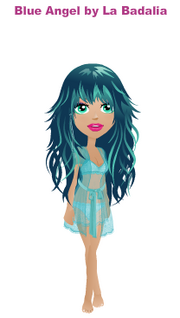 Blue Angel is a controversial Regular set, by a controversial designer La Badalia.
What makes Blue Angel controversial is because the Blue Briefs are the most best selling however some are claiming that the said under wear was actually a thong panty.
General Information:
Edit
The set consists of 4 items:
The set has a total initial value of $1,350 and a total resale value of $1,620.
Requirements:
Edit
Blue Angel can only be unlocked at level 7, for 1,000 Mall Dollars.
Picture
Name
Price per Item
Profit per item (%)
Buy
Sell

Blue Feather Extension
$100
$120
$20 (20%)

Blue Silk House Coat
$500
$600
$100 (20%)

Lacy Negligee
$500
$600
$100 (20%)

Blue Briefs
$250
$300
$50 (20%)