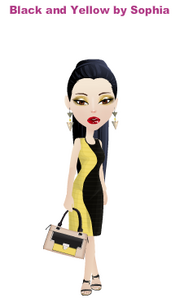 Black and Yellow is a Regular Collection, by Sophia.
General Information:
Edit
The set consists of 4 items:
Art Deco Triangle Earrings
Black & Yellow Sheath
Posh Handbag
Two-Tone Lucite Sandals
The set has a total initial value of $56,000 and a total resale value of $67,200.
Requirements:
Edit
Black and Yellow can be unlocked at Level 156, for - Mall Dollars.
Picture
Name
Price per Item
Profit per item (%)
Buy
Sell
:

Art Deco Triangle Earrings
10,500
12,600
2,100 (20%)
:

Black & Yellow Sheath
21,000
25,200
4,200 (20%)
:

Posh Handbag
12,000
14,400
2,400 (20%)
:

Two-Tone Lucite Sandals
12,500
15,000
2,500 (20%)