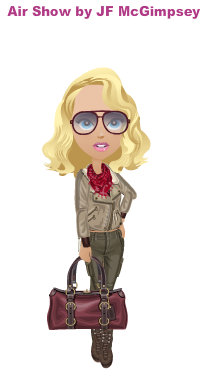 Air Show is a controversial Regular Collection, by JF McGimpsey.
In February 2016, the collection has went under fire for being the inventory prizes in the Wheel of Fashion's "Gorgeous Aqua" celebration. Many fans were angered because 4 of the 7 items were claimed to be very cheap.
General Information:
Edit
The set consists of 7 items including 4 items that went controversial:
Long Sleeve Crewneck
Cargo Skinny Pant
Calfskin Satchel*
Military Lace-Up Boot*
(*Wheel of Fashion inventory item)
The set has a total initial value of $7,600 and a total resale value of $9,120.
Requirements:
Edit
Air Show can be unlocked at Level 58, for 19,000 Mall Dollars.
Picture
Name
Price per Item
Profit per item (%)
Buy
Sell

Aviator Shades
$625
$750
$125 (20%)

Red Rodeo Scarf
$475
$570
$95 (20%)

Aviator Bomber Jacket
$2,200
$2,640
$440 (20%)

Long Sleeve Crewneck
$700
$840
$140 (20%)

Cargo Skinny Pant
$925
$1,110
$185 (20%)

Calfskin Satchel
$1,700
$2,040
$340 (20%)

Military Lace-Up Boot
$975
$1,170
$195 (20%)
Ad blocker interference detected!
Wikia is a free-to-use site that makes money from advertising. We have a modified experience for viewers using ad blockers

Wikia is not accessible if you've made further modifications. Remove the custom ad blocker rule(s) and the page will load as expected.